FTTH Engineering
ITSimplicity Solutions offers network design / engineering services for FTTH/FTTX projects.
Use our (turn-key) project experience to improve your FTTH/FTTX project engineering & planning.
With years of practical experience in turn-key projects of all sizes, our knowhow of best-in-class materials and installation techniques allows us to get future-proof telecom networks up and running in no time, even when there are sudden changes in plans or customer requirements.
We provide FTTH/FTTX engineering services for projects all over the world, offering high quality design services for attractive prices. We perform engineering for FTTH, business parks, industrial complexes and more.
---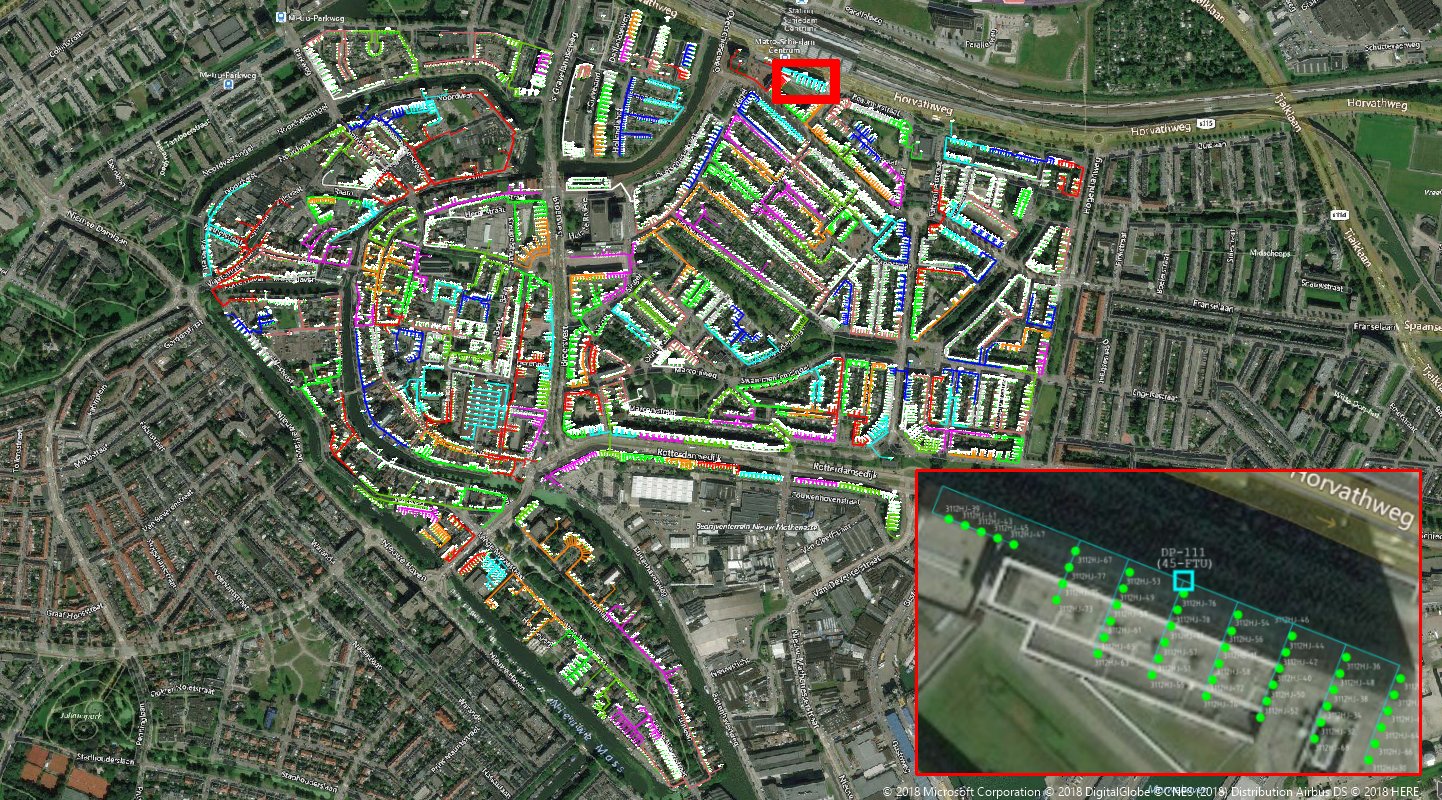 FTTH city area, automatic network design of 9.983 FTU/homes with 248 distribution points.
---
Business case support
ITSimplicity Solutions BV helps select the most appropriate technology, create a solid business case, and can provide tools to design, engineer and build the network, right down to creating an accurate Bill of Materials (BoM).
Relying on our engineering services is a quick and easy way to build a solid business case for the topology and deployment options for your network and to be certain of investing in a robust, future-proof and cost efficient high-performance network.
Installer ready designs
We can provide both high and low level CAD designs (Autocad Map 3D) with initial estimations of BoQ, BoL and BoM for attractive prices.
Using site survey findings, initial estimations of BoQ, BoL and BoM can be enhanced as part of a detailed / low level design (issues such as the accessibility of existing ducts and poles will then be taken into account). The resulting designs in Autocad (Map3D) are installer ready. We provide for detailed network designs: duct-plans, drawings, cable-drawings, fibre schematics.
---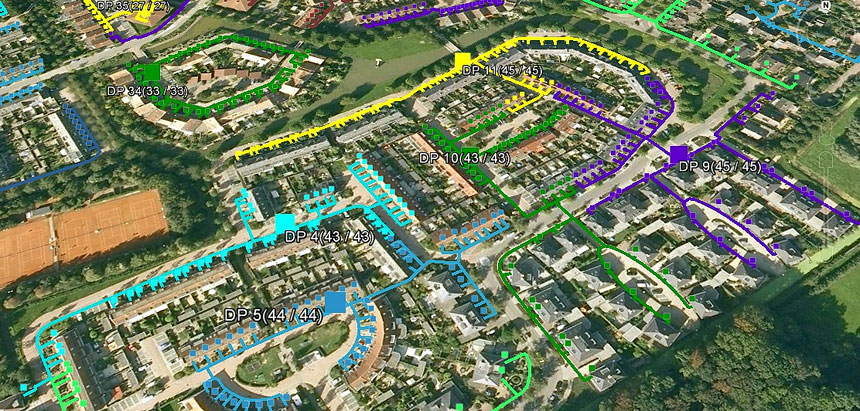 Aerial view of an FTTH city area design.
---
Dedicated Software tools
By automating, sequencing and simplifying components and processes, our design and planning software helps analyse and visualise scenarios easily and quickly for engineering both high level and detailed network designs.
This software is based on years of experience in turn-key projects and was originally created for in-house use. Our turn-key software tools are also commercially available and have seen many successful FTTH/FTTX network launches.
For FTTH (&FTTX) networks, we provide:
Business case support with detailed costs & quantities

Network calculations & concept development

Designing of high-level networks with optimised network concept

Survey / walk-in & walk-out consultancy

Detailed, installer ready, cost optimised, low-level network-design creation. Including duct plans and drawings, cable drawings

Full engineering service: from data to map to optimised high level design to detailed low level network design. Including BoQ, BoL & BoM quantities reporting, detailed per: area, activity and network level, including fibre schematics.

Special FTTX project engineering

FTTH network solutions & engineering services for rural areas and local initiatives

Turn-key software solutions to: design, engineer, plan, build, document and commission.
---
PDF documents regarding our software FTTH/FTTX network solutions, Autocad design details and cost savings:
Real FTTH-FTTX network design software for Autocad
Real engineering advantages with Autocad: the FTTH / FTTX OSP network design process flow
FTTH / FTTX network solutions, automatic cost optimized network design
Automatic network design, Fast algorithms! OK..... But how does it work?
Introduction ITSimplicity & Software. Automatic network design examples for radio telescopes
FTTH / FTTH planning software for turn-key FTTH / FTTX projects
---
[Contact us for our FTTH Services]